Fashion Business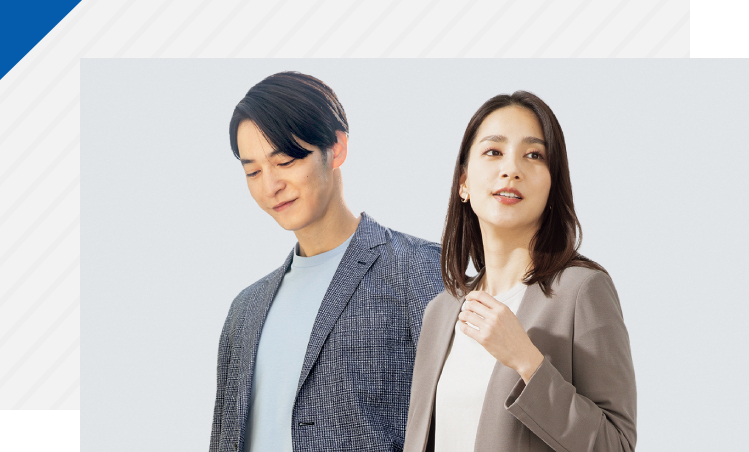 Giving customers the pleasure
of dressing well
Making our customers' lives bright and full of joy through fashion.
Guided by this passion, AOKI creates and develops products that
encompass a broad range of preferences and needs with an
emphasis on high-quality manufacturing. We offer customers
fashion that embodies fun and value for any situation.

Aiming to become Japan's leading retail chain for total styling
AOKI stores started by revolutionizing the supply chain in order to sell high-quality business suits at low prices. Most of these directly operated stores are located along major highways in suburban areas. Over the years, AOKI evolved into total styling stores that include merchandise for women. Establishing a robust position in a market of men's fashions, where customer needs are changing rapidly, we will continue to evolve in order to assure continuing prosperity.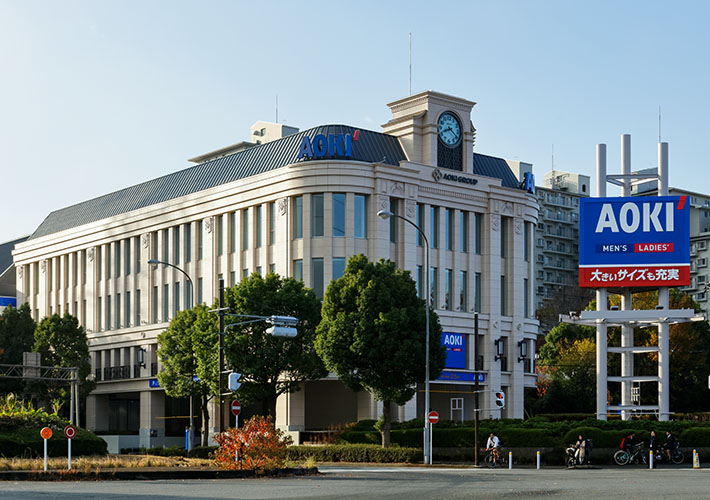 Customer service
The first apparel retailer to introduce a stylist system
AOKI established the stylist system in 2004. At stores, certified AOKI Customer Stylists offer customers ideas for apparel that best matches their preferences and lifestyles. Stylists must complete a course created by AOKI. Training gives stylists knowledge about fashion, styling and communicating with customers.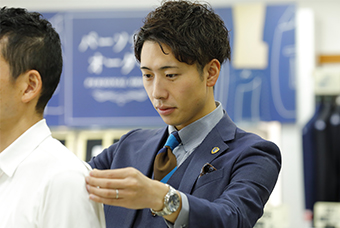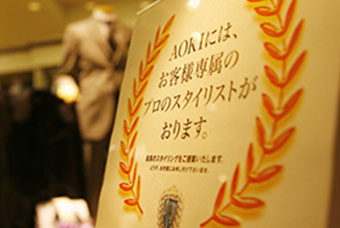 The AOKI store network
Our nationwide network includes both suburban stores and stores in city centers
The AOKI strategy for opening stores draws on a powerful brand in the fashion market and knowledge gained from operating a growing network of stores.Currently, in addition to suburban locations, we are opening stores in city centers and near train stations, including shopping centers and malls, other buildings, and shopping streets.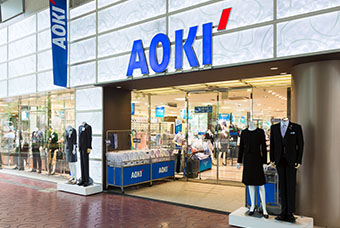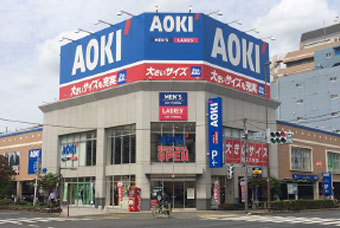 Merchandise
A large selection of products that encompass broad spectrum of customer needs
AOKI creates various products—from machine-washable suits to suits made with Japan's top technologies and business casual style apparel—using a vertical merchandising system that extends from the conception of products to their sale.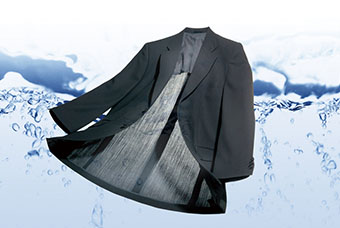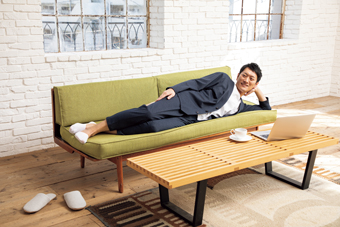 AOKI Inc. operates
the Fashion Business.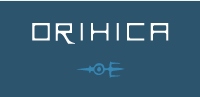 Creating new fashion value
The central concept of the ORIHICA brand is "the key to a new lifestyle." We want people to view ORIHICA as the key to opening a door to a new lifestyle. Customers can select and combine items without staying within a single apparel category.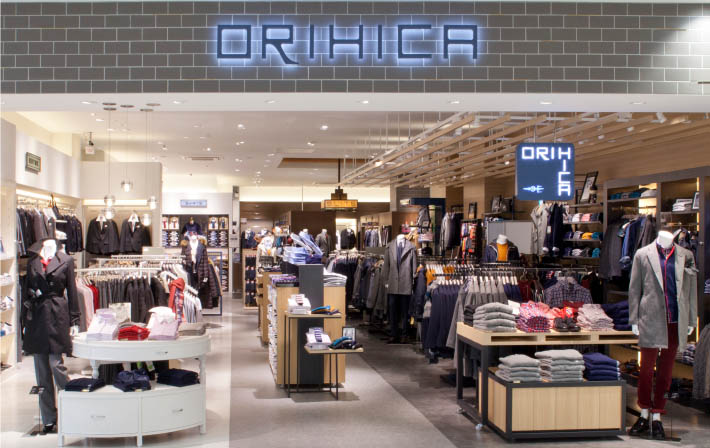 Merchandise
A wide-ranging product line up from business to casual
ORIHICA was created in Omotesando, a district of Tokyo that is shaped by fashion ideas and trends from around the world. The brand includes business apparel, casual clothing and women's fashions. One line of apparel was developed with the British creative director Saleem d'Aronville. Combining a British modern look with Japanese fashion themes, this apparel has become popular among fashion-conscious customers.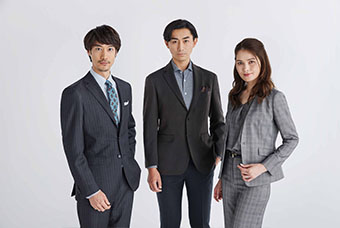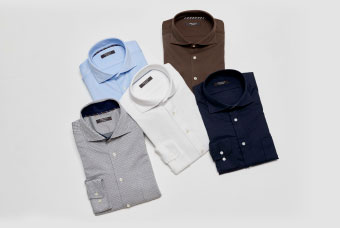 The ORIHICA Store Network
Numerous store formats that incorporate a London design theme
There are three types of ORIHICA stores to match different locations and customer segments. All use London themes because this is where the business suit originated. An apartment-style store is based on an apartment in London. A residence-style store has the atmosphere of a high-end home in London and a SOHO-style store uses design elements inspired by a Soho design studio. ORIHICA stores are also designed to be appealing to women, with an area for women's apparel, a casual apparel corner or other special features.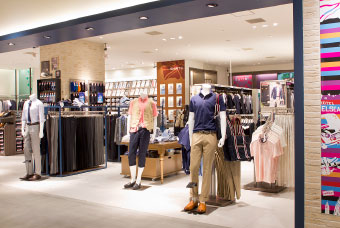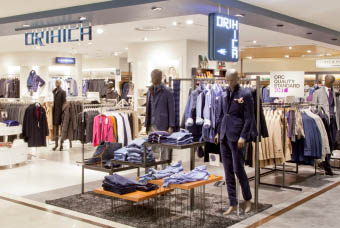 Customer service
Style Navigators make shopping more fun
At ORIHICA stores, customers are assisted by Style Navigators who offer ideas about new ways to enjoy different fashions. Customer response to this service has been very positive. We are using knowledge gained from this method of serving customers to upgrade how store personnel assist customers throughout the AOKI Group.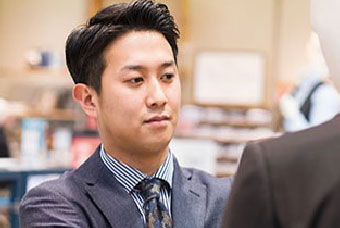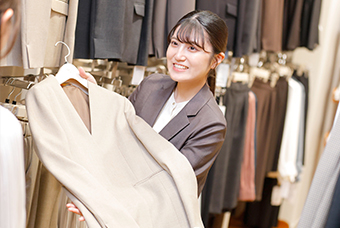 ORIHICA Innovation
Saleem d'Aronville
After the University of Manchester, was a creative director at Mulberry and Macintosh and then became an export promoter at the UK Department of Trade and Industry; assisted many British fashion designers and brands establish a presence in Japan.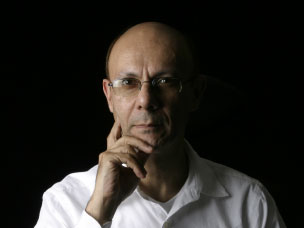 AOKI Inc. operates
the Fashion Business.

Providing Customers with the Joy of Choice
Size MAX is a store specializing in big sizes for men and women, from casual clothing in sizes XL to 7XL to suits and formal dresses and even shoes and belts. We seek to expand nationwide and to achieve further growth and evolution in order to provide our customers with not only the sizes they need but also the joy of being able to choose the colors and designs they like.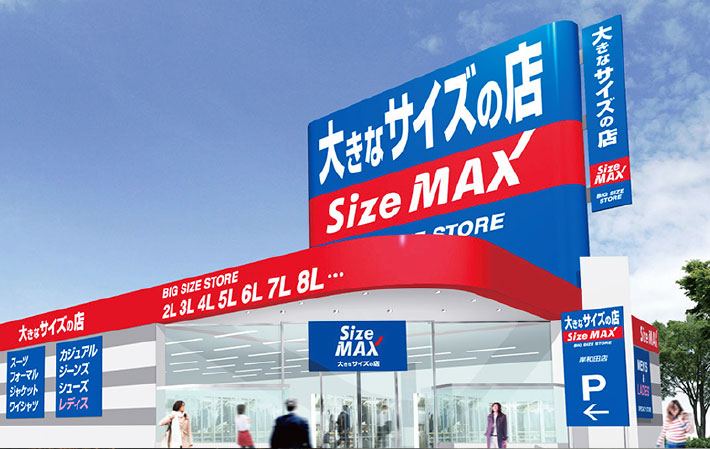 Concept
Specializing in big sizes for men and women
Taking full advantage of the product appeal and customer service capabilities that AOKI has cultivated since its founding, we will provide plus size customers all over Japan with the joy of being able to choose fashion items they like. Our extensive lineup includes suits and formal dresses as well as brand name casual clothing, shoes, and belts.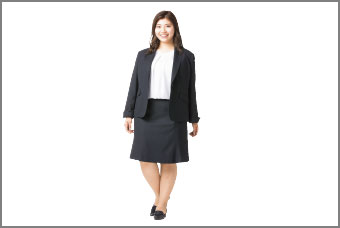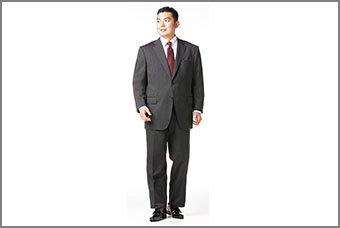 Brands
Lineup that includes various brands
The various brands we carry range from casual to sports brands. There are also some brands you'll only find at Size MAX, including AVIREX and Schott.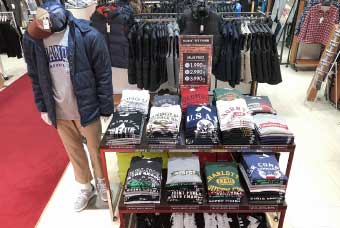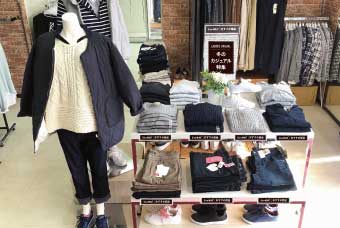 Merchandise
Selection of sizes for the perfect fit
Our selection of men's suits ranges in size from XL to 6XL (tall sizes from T to 3XT), and our selection of women's suits ranges in size from XL to 6XL. Additionally, in men's casual, we carry sizes from XL to 7XL, and in women's casual, we carry 2XL to 4XL.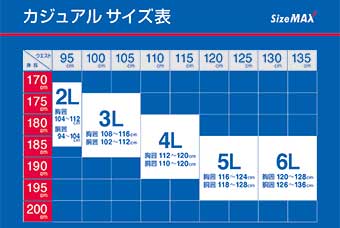 Size MAX Innovation
Member Privileges Accepted at Both AOKI and Size MAX
Our free-to-sign-up, no-annual-fee member's card can be used at both Size MAX and AOKI, and discounts are available according to membership rank/points. There is also an official AOKI app and e-mail magazine.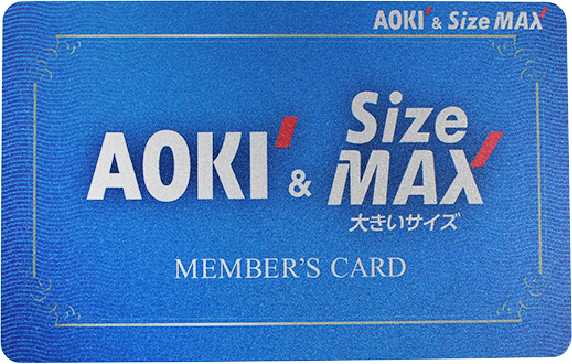 AOKI Inc. operates
the Fashion Business.